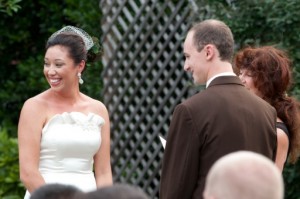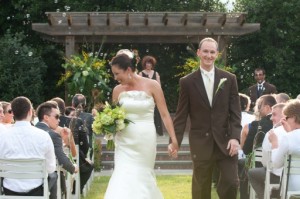 Linda is near and dear to our hearts. A few days before our wedding, the pastor we had planned to use became very ill and informed us that he would be unable to perform our ceremony. Our wedding was a very international gathering with family and friends coming from Sweden, Guatemala and everywhere in between. The majority of our guests were either English, Swedish or Spanish speaking and we had therefore planned to have the ceremony in all three languages – not an easy feat for any pastor. Therefore, only a few days before our big day we were not just frantically trying to find an available pastor, we needed one who could perform an international wedding. Linda was recommended to us through a the wedding community grapevine and she lived up to all the kind words that her colleague shared of her. After just a short conversation on the phone, Jessica and I immediately realized how professional and special Linda was going to be. She made it a point to know Jessica and I extremely well. Despite a rehearsal in scorching North Carolina summer heat, she took the time to talk to all of our friends and relatives and really got to know us as people and as a couple. With only this short preparation she prepared what many have told us to be the best wedding ceremony they have ever witnessed. She flawlessly blended three different cultures, languages and traditions into a ceremony filled with love, laughter and compassion. Her genuine interest in our lives could be felt by everyone present as she included quotes from our loved ones, favorite authors and even ourselves which she eloquently blended in the different languages and traditions for all to understand. Linda is truly a blessing and I would recommend her to anyone in need of a truly memorable and special ceremony.
Jonathan Howie
Wake Forest, NC
~~~~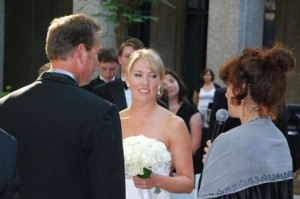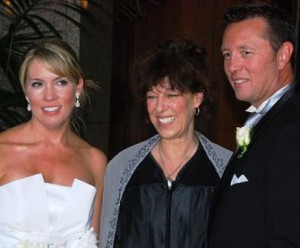 In planning our wedding, we researched and interviewed several officiates. The initial conversation with Linda was amazing. She asked the right questions, revealing answers that we hadn't even considered. She has an amazing ability to find what is important to the bride and groom and weave it seamlessly into the ceremony.
Linda was available and willing to help at every step of the journey. I felt very confident in leaving decisions up to her when I was unsure. Linda had great ideas and insight. She was able to create moments of both laughter and tears during the ceremony which was very important to us.
She is able to shape the ceremony to fit any desire or need.
Linda views ceremonies as celebrations!"
Yvonne Anderson
Durham, NC
~~~~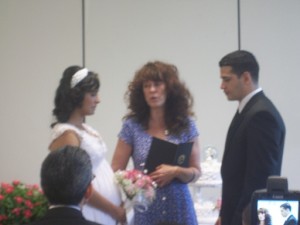 Toda novia sueña con que el día de su boda sea inolvidable y toda novia merece que sus deseos sean cumplidos. Para mi en el día de mi boda lo mas importante fue poder compartir mi amor hacia mi esposo de una manera única y diferente ante nuestra familia. Gracias a Linda la ceremonia se pudo auspiciar en Español y mi esposo y yo tuvimos la oportunidad de dar nuestros votos matrimoniales con nuestras propias palabras y nuestro propio sentir. Con su buen carisma y carácter cristiano Linda hizo de mi boda algo muy especial, hubieron muchas risas, bonitos recuerdos y algunas lagrimas de felicidad. Dios siempre estuvo en el centro de cada oración y Linda fue una bendición para nuestra unión.
Laura Munoz
Raleigh, NC